UC had two very busy weeks of DayCamps at the end of June. I'm a little behind in writing about them because I took a little break for a week, but now I'm back and will catch up with all the things you ever wanted to know about how our summer is going!
Let's start at the very beginning – week one. It held more unknowns for us: we'd never worked with the church partners who were bringing a youth group to lead. We had no idea how many kids might show up, we never know what the weather will do, and our budget was mostly a giant guess.
One thing I've learned is that where there are question marks in my planning, God will always fill in the blanks. The weather and budget are things that God has always worked out for UC and these weeks were no exception. The real rewards though, are in the people.
The partnering church was Memorial Baptist Church here in Columbus. When a church tells you that they are sending their youth group you really never know what you're going to get, but this group exceeded our expectations. They were hard working and committed to building relationships with the kids. They remained upbeat when the numbers were down and never complained when it rained. Their leader for the trip was their interim youth pastor Nate, who sort of got the trip dropped into his lap. His leadership and energy were amazing! Â All in all we're grateful to every member of Memorial – they helped in amazing ways by supporting the youth who came, preparing lunches and just dropping by to check us out.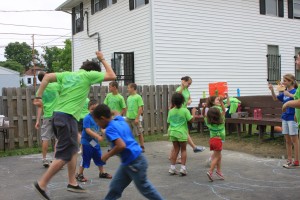 We didn't have as many kids show up as we hoped for, which initially had us feeling down. But the kids who came were a mixture of new kids and ones we've had for years, and the numbers worked out really perfectly because we had lots of time to cultivate those relationships. One of my favorite things to see in this community is kids building trust with adults who love Jesus and that's exactly what happened during this camp.