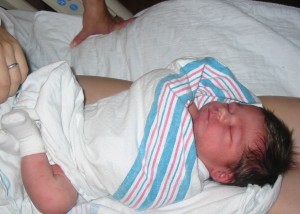 Sweet Boy. Seven years ago we debated with a nurse on how long it would take you to get here. She thought you'd be slow. I knew you'd come speeding into the world.
Calling you "Turbo" has always been appropriate.
You are really fun to watch. We love the way you think and process through details. My favorite part is the way you smirk when you're thinking – unless it's a really tricky problem – that's when you smirk AND stick your tongue out. I love to watch you figure out Snap Circuits and Legos designed for much older kids. I love to watch you play with real tools and take apart your toys. You're a little like you're daddy, and also like Pap, and I love that about you.
But in most ways you're a little mama's boy. Even with all the speed and running and soccer and energy, you're still my cuddler, always climbing up for an extra hug first thing in the morning and asking for extra tucking in at bedtime. You've always got time to slow down to give mama a hug. I asked you the other day what will happen when you're too big and too cool for some mama love. You replied "not gonna happen"… when I pressed that at 20 years old with a girlfriend and heading off to finish college you would probably not want to cuddle you said "I'm gonna choose not to think that far ahead." Right on Turbo, I'm with ya.
I promise some day I'll let go, when you're ready and need a push I'll give you the nudge. But in my heart I'll be reminded of days when you could sit for a half hour or more and just be close.
Love you Turbo. Thanks for slowing down once in a while, and making mama slow down too.
Mommy.