Ten years ago this moment, everything changed.
A week late and on her own time, a spunky little spitfire was born. When she was born the doctor said "wow the hair – and look at those pretty girly lips"… what a first impression.
Hope Isabelle,
You are the spunkiest thing in my life. Your style is all your own, you are carefree and bring song and dance into our house. I have a lot to learn from you.
At the same time you are sensitive to the world around you. You feel sad when others feel sad, you read books and cry with the characters, you listen to music and ask what they lyrics mean and what the people must've been feeling, and you see people in need and want to change the world for them. You see neighbors in need or classmates with hard lives and you ask all the right questions. You try to understand first and then you make a plan. You always have a plan… or you want to know my plan. You have every detail in hand. You know how to bring change at school, at home and will soon be ready to take on the world.
I believe you will, too. Change the world I mean. You have just enough sensitivity to know the needs of others and just enough determination to lead in change. I know your gentle heart, your faith in Christ, Â your planning mind and your take charge attitude will do the world good.
These days I find daddy and I praying that the world will be ready for you. I pray that you continue to be sensitive and not blinded to the needs of others. I pray you will continue to grow in kindness and gentleness. I pray you will stay carefree and keep your own style. I pray that I never squash your spunk. Dance your heart out, I'm here to dance with you and ignore anyone who says we're silly. You know your gifts, you know your voice, you know what you want and you go after it. No one stands in your way. I love you for that.
Happy Birthday #1 munchkin. Welcome to the double digits!
Love,
Mommy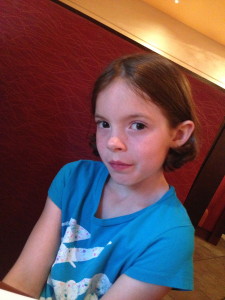 P.s. two years ago, i wrote you a birthday letter. I read it after I wrote this one and it sounded eerily similar! The 8 yr old letter.