Some years our kids have wanted all the treats but have not wanted to take a minute to learn what was going on. So how do you find a balance between the fun silliness and the lessons that are sometimes hard to grasp? I'm thinking that this year we got a little closer to that balance, because in this nutty household we're not giving up our sillies. So this is the story of how the Alexanders are finishing off Lent.
Friday, Hope tried to understand why some people fast on Good Friday, and I was proud of her willingness to ask my mom questions about it. (I'm proud of Gramma for trying to explain it too!) Â Gramma and Pap colored eggs with the kids and then we baked our Easter Story Cookies. They are just a few ingredients and each one represents some part of the death & resurrection story. The kids made them, smelling the vinegar, beating the nuts, cracking the eggs, measuring the sugar, tasting the salt and then spooning them out. They were happy to do this right before bed (allowing them to stay up even later) and then turn the oven OFF and tape the door shut (like the sealing of the tomb). Here are some photos: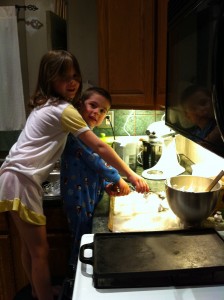 Saturday we found our gift baskets and all the crafty goodies inside. The kids remembered the cookies and were surprised to find them hollow like the tomb on Sunday morning. Yeah, I know we did this part a day early because it was still only Saturday, but family duties called and this was our window of opportunity. I'd rather do it early than run out of time.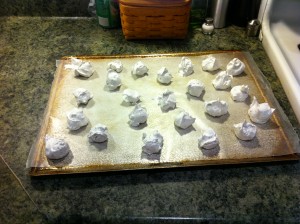 We also spent Saturday with family we don't see often, had an egg hunt (Ben crawled under the car to get one for his cousin!) and just enjoyed the company of family. It was a good day.
Today of course is Easter Sunday – It will be another day with extended family. But first we need to find that Alleluia Poster. You can read that explanation a few posts back if you missed it, but we created a poster on Ash Wednesday with all of our celebrations and we put it away for the season of Lent. We talked about it yesterday and the kids are looking forward to waking up this morning finally able to celebrate the risen King!
As we have our celebrations today we will be thinking about our friends and family all over the world who are celebrating today too, and those who don't have as much freedom to celebrate safely. Wherever you are, we will pray that you are all safe and well and that you know you are loved by the Alexander family.
Chocolate Bunnies Only Please