I don't have a food blog, but many of you know that I'd much rather bake than do almost anything else. Last fall I was invited to do a wedding cake for dear friends of mine. They had tasted a cannoli cake somewhere and couldn't really afford it (at $8 per serving!). So I (with a lot of help from my good friend Sarah) recreated it for them (at less than $2 per serving, so that company was making a FORTUNE), and it was delicious. The fillings were smooth and decadent. Now, I will say that it had real buttercream frosting, which I am not a big fan of. So when I want to eat this delicious cake I don't want to make or consume buttercream. So today I was feeling inventive. I wanted richness, I wanted my tastebuds to go "oooh". I nixed the buttercream and made a delightfully rich treat for my family and friends (or whoever gets to my house before the other 32 cupcakes are gone – I confess there were 35, but the kids and I had to taste-test).
Step one: White Butter Cake turned into cupcakes
Step two: Mascarpone Mousse Filling (featuring Triple Sec and Mascarpone Cheese)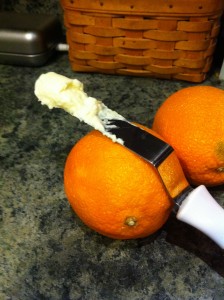 Step three: Dark Chocolate Ganache (featuring, well, dark chocolate)
Final treat: O.M.G.