Stress makes me itch… I didn't used to believe it, but I do now. It's just a fact. Today's an itchy day.
Today was the day of my annual evaluation at our ministry. It's an hour or so with my awesome boss/director. He's very kind. He affirms my gifts. He rarely adds to the "things I need to work on" list that I create. Â The hour didn't end in tears or anything so dramatic. It wasn't the actual evaluation hour that made me itch. It was the couple of days of prayer and thought and SELF evaluation that made me itch. Yesterday my dermatologist actually said "wow" when he looked at my skin. ugh.
For me, baking is stress relief.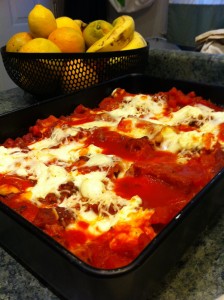 So, for dinner we are having a 15 layer lasagna (counting the way Spaghetti Warehouse does, where every layer of cheese and meat counts). It's not a half-pan either… I needed the full pan.  I'm not feeding an army, just my irreplaceable husband and my adorable kids and me; we probably won't even eat half.   I used my Grandma Geramita's pan and picked fresh sage, basil and oregano from my garden and remembered how she used to send me to the sage bush when she'd make homemade sauce at my mom's house. I made the sauce from scratch the way she taught me and thought of her the whole time. I made all those cheesy delicious layers and am drooling over the smell of what's baking in the oven. And I'm already looking forward to the leftovers.
And 15 layers later, I'm not so itchy.