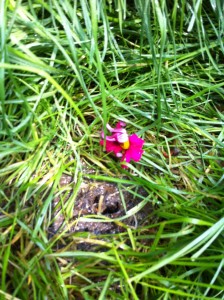 Today I found a hole. It's tiny – a golf ball would easy cover it. What attracted me to the hole was a hissing sound I heard while walking to my garden. Â I never made it to the garden because the hissing was in fact water spraying up out of this tiny hole. "Spraying" might be too strong of a word – let's go with "misting" – I actually walked right over it without feeling it and would've missed it entirely if not for the sound.
Panic swelled in me. Â Water line? Sewer? not many other options in the city – but this hole isn't where we thought our water line was. I called my faithfully calm husband and sat in disbelief when he said he wasn't going to come home, dig it up and investigate that very instant. Instead he said "I'll figure it out sometime." Not very reassuring, but I had no choice but to wait.
He didn't blow the issue off quite so much, and now that the initial shock of a misty hole that could lead to the other side of the globe for all I know has worn off, he has informed me that he "called a guy". This guy comes recommended highly and for a fee will dig up our yard and replace the water line that has been breached. Knowing that it will be taken care of and hopefully not blow a full geyser out of my backyard helped me chill.
I've sat here thinking about it (only hours after finding the misty hole) and have come to some perky realizations:
1. There is a good chance the guy replacing the water line with new, guaranteed for 10 years (does that seem long enough??) water line will ALSO replace my 1/2 inch water line with something larger! This means that after 8 years of detesting our water lines for their low pressure, I might actually have hope of rinsing my hair happily.
2. Ben and Hope are going to be thrilled if any kind of heavy machinery is required for the digging. Bobcat, backhoe, bring it on! We love to watch trucks move dirt. I have to say I'm going to be disappointed if a few guys with shovels appear.
3. The cost of this likely puts our other plans (retaining wall, new sidewalk, new stairs) on hold again, BUT… This means new grass! our patchy, icky grass can have a fresh clean start – maybe I'll even splurge and buy sod! The possibilities seem endless!
The real lesson here is that I can go from panic to positives very quickly. This seems like an odd way to be reminded that there can be hope and joy even in the midst of panic and stress, but that's what I keep thinking. And rest assured there will be pictures to document this adventure, whether it's good bad and muddy.
a tiny hole and a full circle