It's no secret. I love road trips. Short or long, doesn't matter to me.
When good friends invited us to come to Buffalo, NY, I couldn't resist. For the second year in a row, the kids and my  mom and I packed up and took a road trip.
Last year we went to Niagara Falls – simply because when you're a half hour from the falls, why not?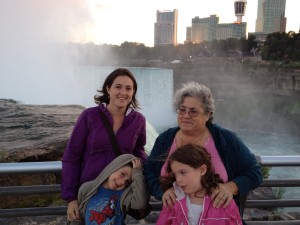 This year Hope informed me that she saw in a movie that Niagara Falls is one of the most romantic places in the world – sadly I've been there with my kids, parents, coworkers, ministry youth, and friends… but never my husband.
This year, it turns out the answer to "why not?" is "because it's downpouring and not worth it."
That left plenty of time for visiting friends, the science museum, and swimming in the pool. I can't believe I didn't get photos with friends, but I have loads of photos of these monkeys:
My achey body has just about recovered enough to ask the question:
Where to next?