If a picture speaks, I'm letting it do my talking. (and in spite of that, this blog is long… turns out I still have words to say…)
Last fall the city took ownership of this property. Rumor around the neighborhood has it that the owner believed it to be worth millions. I don't believe the man could be that oblivious, but I guess he was basing that completely on it being on Main Street.
Millions. With an M. yeah.
Anyway, the city took ownership and tried to seal it up. How do you seal up a wall like that? You don't. You seal up the front of the building the best you can and you don't bother with the back…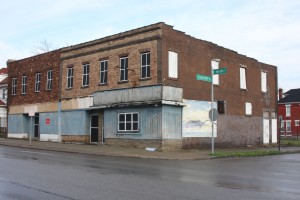 I love how they paint pretend window outlines on the plywood.
As soon as I heard from Priscilla (the manager of the Stoddart Avenue Community Garden (SACG) that the city owned these lots, she and I met with Dan from the city  Land Redevelopment Office about getting them torn down. That back wall has been caved out for years. From my house's office window (below) I can see interior rooms.
See that crooked brick wall to the left? It looks oddly like a ramp? Kids are climbing it, as are rodents. I heard from a neighbor a few weeks ago that he knows someone who climbed in and then fell through the floor. Smart move? No. I'm sure there are all sorts of undesirables in there, not to mention the structural damage done by the elements over the years.
What's a girl to do to tear down a building she doesn't own? Dan says we get people with a stake in the neighborhood to write letters to city council. I took photos (above) and distributed them (in print and digital). Pastors with churches on all sides, block watch leaders of the blocks behind it, a business owner next to it, a staff person from Franklin Park Conservatory… the list goes on and on and I'm not naming names because I'll leave someone out. Priscilla knows everyone. It's crazy but she does and for that I'm grateful because I don't know anyone! Most importantly residents and landlords and homeowners wrote letters. The community wants this down and UC wants what the community wants. Two to three dozen people wrote letters… and most included the photos. I'm not sure, but my guess is that the councilman probably got sick of downloading the same 3 or 4 photos a couple dozen times.
The good news: Our letters have been heard. Priscilla and I have been receiving emails from the councilman telling us to be patient. We wrote back and asked how we could speed up the process (not patient). Oh – and we asked more people to write more letters and include more photos. Then we heard from the Land Redevelopment Office Administrator (Dan's Boss I think) that we need to patient. Apparently even after everyone else agrees, the Near East Area Commission will have 60 days to be told about it, look at it, debate it and agree or not. There's that patient word again.
Now, I know that patience is said to be a virtue. But I think there's a time for patience and there's a time for justice. Then I partnered with Priscilla – we are not the most patient pair in the world. I love her.
As it turns out, this time I happen to know someone! I wrote to someone on NEAC to make them aware and ask how to speed up the process. Don't you know… I forgot to include the pictures! DANG! She replied telling me the process and that it would be faster if I get the code enforcement people involved. And she included the code enforcement lady in the reply so that she was already aware of it. So I hit "reply all" and sent a thank you to both of them for their time… and this time I included the pictures.
My goal is for this picture to be seen by all. Our neighbors want to be proud of their community, but this eyesore is the gateway. I'm not going away, Councilman Klein. And I will show these pictures to anyone who might look at them, who might know that they'd be sad to pass this building every day, who might admit that they'd want it out of their neighborhood too.
If you have a stake or interest in our neighborhood, please write to
Councilman Zach Klein
Columbus City Council
90 West Broad Street
2nd Floor
Columbus, OH 43215
and email it to his legislative aide:Â Gretchen James, [email protected]
I can give you tips on what to write, so feel free to email me or leave a comment here if you'd like me to email you the list of things to include in your letter – I'll even email you the pics to include! Oh, and if you write a letter please let me know.
The Picture Heard around the City