written in the UC Newsletter for May 2010:
"for we are God's workmanship, created in Christ Jesus to do good works…"
(Eph. 2:10)
When I got married one of the presents was a beautiful handmad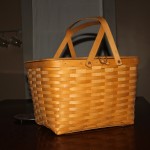 e picnic basket. It was a brand-name, quality, craftsmanship treasure, and I'm sure it wasn't cheap. It was made to carry up to 30 pounds of goodies and to be enjoyed. It is in my kitchen, on top of my cabinets where I can see it, but sadly I don't think we've ever used it. I wonder how the person who bought it for us (who might read this newsletter) would feel to know about the lack of use.
I mention this because there are very few things in our world that are handmade, but this basket is one thing I think of when I read the word "workmanship" in this verse. The word itself feels awkward because we don't use it often, but it conveys the art of skill, or the quality given when something is made. But in Ephesians, Paul isn't talking about a basket, he is talking about believers. He has just reminded them that they are saved by grace, not of their own works; they are God's workmanship. We often think of creation as a "it all happened back in Genesis" kind of way, but I think this means they are each re-created new in Christ for a purpose. The same is true of us as believers. We are newly created and we have a purpose. Are we doing what He created, saved, and re-created us to do?
In 1Peter 2:12 we read that we should live such amazing lives among non-believers that they can't help but glorify God when Christ returns. So let me ask: do you know any non-believers? (If not, go meet some.) If you do then you have to ask: do you think they will praise God because of the good you do?
Ephesians tells us there is good to be done, good that was put here for you to do it. As part of Christ's body you are a treasure, crafted of the greatest quality and ready for use. The only question now is whether you will seek out the good that is waiting for your hand to help it or whether you will sit on a shelf and collect dust while looking pretty.
As for me, I'm going for a picnic with my kids.